Clarissa M. Kalil, Esq. has dedicated her life to helping immigrants navigate the immigration process. Kalil is a dual licensed attorney in two countries: Brazil (OAB/GO 35665) and in the United States (Missouri Bar 71440). Her practice is exclusively dedicated to the U.S. immigration law. Since her office only handles immigration matters which is federal law, she can represent clients in all 50 states in the U.S. Immigration law is federal law enforced by a federal agency. As such, an immigration attorney admitted to practice law in any state can represent a client before DHS, USCIS, the BIA, or any immigration court in any other state.
Having witnessed her own parent's journey to obtain a green card, she is determined to help as many families as possible. Born in the United States, Kalil and her immigrant parents moved back to Brazil when she was four years old. Kalil is the third-generation attorney on her father's side. Growing up, she was passionate about justice for as long as she can remember. "I dreamed of living in a world that provided equal opportunities for everyone", says Kalil. At just 16, Kalil enrolled in law school in Brazil, as the youngest student in her university. She spent 5 years studying and obtaining her degree before spending the next 3 years working as an attorney at a full-service law firm, handling civil, labor, and family law matters.
Her inspiration for justice came from her own background. During her time in law school, Kalil suffered a horrible mistake at the hands of a pharmacy that gave her the wrong medication. She was given medicine containing a double dosage of corticosteroids which caused suppression of her immune system. She ended up in the hospital with sepsis and Acute Respiratory Distress Syndrome (ARDS). She entered a coma and for several weeks, her failing lungs were kept alive through machines. This experience only strengthened Kalil's drive for justice and after making a miraculous recovery, she resolved to fulfill her dream of moving back to the United States. A few years later, Kalil returned to the United States as she was determined to obtain her US law degree.
While attending the Northeastern University School of Law, Kalil spent time volunteering at non-profit organizations, working in immigration clinics, and focused her studies on Immigration law, International Human Rights, and asylum. In 2019, she passed the US bar exam and founded The Law Offices of Clarissa M. Kalil, PLLC. Clarissa Kalil's immigration law services include family-based green cards, humanitarian-based forms of relief, and some employment-based green cards. Unlike many other immigration law firms, Kalil's firm explores a variety of immigration relief options. "It's never a one-size-fits-all solution," says Kalil, "We do our best to help our clients achieve their dream of success in the U.S." The philosophy of the Law Offices of Clarissa M. Kalil, PLLC is simple: "We evince our commitment to each client by providing a class of legal service that is peerless. I feel very grateful to collaborate with and become part of the American Dream of other people. This is the driving force for me to help and do my best to help all of our clients to obtain their right to live and work in the United States without fear."
She is a member of the American Immigration Lawyers Association (AILA), Boston Bar Association (BBA), Member of ASISTA.
Admitted to practice law in the U.S. Court of Appeals for the First Circuit.
Admitted to practice law in the U.S. Court of Appeals for the Second Circuit.
Admitted to practice law in the state of Missouri by the Supreme Court of Missouri
Admitted to practice law in Brazil by the OAB-GO.
2017 LL.M. Graduate of Northeastern University School of Law in Boston, MA.
Hugo Pereira Serri de Castro
Of Counsel Immigration Attorney
Attorney Hugo Pereira Serri de Castro is a Brazilian native, and he first graduated from the Rio de Janeiro State University Law School in 1999, immediately engaging in law practice in Brazil. He further honed his legal skills by graduating from the LL.M. program at King's College in London, England, in 2012. Most recently, he graduated from the LL.M. program at the University of Denver in Colorado, United States,
He is one of Colorado's most linguistically diverse attorneys, speaking English, Portuguese, French, Italian, and Spanish.
Attorney Serri de Castro's long and diverse experience makes him a veteran of the practice of law who will fight for your case with persistence and compassion.

Born in São Paulo, Brazil, Laura Lemos is a dedicated law student at the esteemed Federal University of São Paulo. Her solid academic foundation and unwavering commitment to legal excellence are the driving forces behind her pursuit of legal knowledge.
Fluent in both English and Portuguese, Laura adeptly navigates linguistic nuances, ensuring seamless communication across diverse contexts. Furthermore, her practical experience shines through, as she has actively contributed to various cases while working at Santa Catarina's Justice Court in Brazil.
Before embarking on her legal journey, Laura's path led her to the World of Life organization—an internationally renowned entity. Graduating successfully from the Course of Leadership and Discipleship within this organization exemplifies her dedication to personal growth and the honing of her interpersonal skills.
With an astute comprehension of law, polished communication abilities, hands-on exposure to legal cases, and a set of valuable people skills, Laura Lemos is an important addition to our team. Her drive for connectivity and steadfast diligence serve as the foundation of her work.
Luana Duran was born and raised in São Bernardo do Campo, São Paulo, Brazil. In 2022, she earned her Bachelor's degree in Law. Duran is fluent in Portuguese and English, with the latter language being self-taught. Currently, she is thriving as a Legal Assistant. Her commitment to her work is fueled by her passion for the field.
During her journey, she had the privilege of interning at prominent Intellectual Property law firms and a major automotive manufacturer in Brazil. These experiences enriched her understanding of legal practice in different contexts.
Immigration law presents a unique challenge, where compassion meets complexity. Duran has found herself drawn to this field, not only for its legal intricacies but also for the chance it provides to assist those seeking refuge, reconnection, and a fresh start. Making impactful and positive contributions to other people's lives is one of the reasons why she entered law school.
Duran believes that every case in immigration law is a story of resilience, hope, and the pursuit of a better life. In her own words, she is excited to be part of a great legal team that plays a positive role in these narratives, helping families reunite, individuals find safety, and dreams become a reality.
Franci Pontes is a professional with extensive experience in customer service. She began her academic career studying Tourism, which provided her with the opportunity to intern at the renowned airline LATAM. After just two months at the company, she was hired as a full-time employee.
During her nine years at the airline, Franci developed skills in various areas, starting with ticket sales and later serving large groups, including musical bands and exchange programs. Over time, she took on the role of Key Account Executive, serving both corporate clients and large agencies.
Deciding to pursue new horizons, Franci changed careers and enrolled in a Business Administration course. In partnership with her husband, she founded a real estate agency in her hometown, acquiring the American franchise Century21 and establishing Century21 Casa Nova. Fulfilling a multifaceted role, Franci not only managed the company but also worked as a real estate agent and appraiser. Within the company, she was responsible for all the documentation involved in sales, as well as managing the team of associated real estate agents.
In 2017, Franci decided to seek refuge and better opportunities for her family in the United States of America. Currently, at the Law Offices of Clarissa M. Kalil, she assists with the organization of daily tasks in the office, providing support to the team and maintaining direct contact with our clients, offering the necessary support for the success of their cases.
With her extensive experience in customer service and administrative skills, Franci plays a crucial role at the Law Offices of Clarissa M. Kalil, contributing to the excellence of the services provided and offering the necessary support to clients in their pursuit of success in their cases.
Paula Pignataro is a law student at PUC-PR and serves as a legal assistant in our office. Throughout her academic journey, she has interned in a diverse range of legal areas, spanning civil law, criminal law, labor law, and public law. Paula's bond with the United States was established early in her life, having visited the nation multiple times and even residing in Tennessee for a while.
Over the course of her experiences, Paula realized her profound interest in the bureaucratic nuances of law. She is deeply motivated by the opportunity to assist those desiring or requiring legal residence in the United States. Characterized by her empathy, Paula not only thrives in her professional sphere but also cherishes traveling and cultivating meaningful connections with loved ones.
Paula's unique blend of personal and professional experiences propels her to combine her love for travel and the U.S. with her budding legal career. Whether she's aiding clients through bureaucratic intricacies or venturing into unexplored terrains, she is steadfastly dedicated to forging links between the realms of legalities and individual dreams.
As Paula continues on her path, she eagerly anticipates further opportunities for both personal and professional growth, all while aiding in the fulfillment of aspirations for those wishing to lead a lawful life in the United States.
Priscila Oliveira is from Sao Paulo, Brazil. With an impressive tenure of over three years in this domain, Pryscila has carved a niche for herself as a specialist in digital marketing, focusing predominantly on the expansive universe of social networks.
Her academic journey is as eclectic as her professional one. While she holds a degree in Theater, her thirst for learning led her to pursue a postgraduate degree in Film Production from the renowned PUCPR. But her passion didn't stop there. Pryscila further honed her skills to become a formidable Social Media Strategist, a title she wears with pride.
Her philosophy is simple yet profound: there's always more to learn. Embodying this belief, Pryscila has garnered certifications in pivotal digital courses. From the art of copywriting to the intricacies of CRO, the nuances of branding, and the vast world of digital marketing, her knowledge base is both broad and deep.
In our office, Pryscila plays a pivotal role in sculpting our brand's online presence. She deftly manages our marketing and social media, ensuring our voice resonates clearly amidst the digital cacophony.
Today, Pryscila is more than just a professional; she is a brand in her own right. As a social media strategist, she lends her expertise to influencers and companies, aiding them in carving a significant presence in the bustling online market. And her desire to share her wealth of knowledge doesn't stop at consulting. Venturing into the realm of info-products, Pryscila penned her first eBook, aimed at aiding beginners in navigating the vast seas of social media. Aptly titled "INSTAGRAM+", it encapsulates her insights and strategies for mastering one of the most influential platforms of our age: Instagram.
In Pryscila Oliveira, one finds a blend of passion, expertise, and an insatiable hunger for knowledge, making her a force to be reckoned with in the digital world.
Of Counsel Immigration Attorney
Daniela Marquez Albert is a Boston Business and Immigration Attorney and the founder of Elyon Business & Immigration Law Firm, PLLC. She is also the co-founder of the foreign filial Elyon Firma Legal Empresarial in Mexico which offers corporate and transactional services for companies in Mexico.
Attorney Albert is admitted to practice law in Mexico and in the State of Massachusetts. She is passionate about social justice, entrepreneurship, and financial and legal literacy, especially for immigrants. Attorney Albert is experienced in international business transactions, human rights, and immigration law, with a strong interest in the protection of victims of domestic violence and victims of human trafficking.
Sabrina is an experienced professional in finance, project management, and controllership. She graduated in accounting and earned a postgraduate degree in controllership from the renowned Mackenzie Presbyterian University in Sao Paulo, Brazil. She also holds a Master's degree in Business Management from Fitchburg State University here in the United States.
With nine years of experience in her field in Brazil, Sabrina decided to seek new challenges and career development in both her profession and language skills, so she moved to the United States. Currently, she works in our office in the finance department, managing activities and providing support to clients.
She is a dedicated mother, as well as having a great interest in culture and knowledge. Her passion for learning and improving her professional skills makes her a determined and committed individual in achieving her goals. In addition, she enjoys traveling, attending music festivals, reading, and spending time with her family.
Diana Wesal, born in the vibrant city of Kabul, Afghanistan. She is a woman of determination and achievement. We are proud of having Diana in our team.
 In 2016, Diana proudly graduated from high school, marking the beginning of a new chapter in her life. Shortly thereafter, she embarked on a professional adventure as an HR Manager at Weyar Afghan Ltd. It proved to be an enriching experience that lasted for two fruitful years, from 2016 to 2018.
 While dedicated to her career, Diana's thirst for knowledge was insatiable. She seized the opportunity to pursue a medical degree at Ghalib University, starting in 2017. Balancing work and studies was a demanding task, but her determination to succeed never wavered. Her hard work paid off, as she emerged as the top student in her class.However, as her medical studies took precedence, Diana made the difficult decision to bid farewell to her role at Weyar Afghan Ltd. Her desire to excel academically and contribute to the healthcare field remained unwavering.
 Before 2016, Diana dedicated over two years of her life to teaching English at a private institute for Afghan girls. Witnessing the transformation and empowerment of these young minds brought immense fulfillment. This experience honed her communication skills and solidified her commitment to fostering education as a means of empowerment.
In 2021, the rise of the Taliban in Afghanistan brought about a tumultuous and uncertain period. Unfortunately, due to the deteriorating security situation and prevailing circumstances, Diana had to make the difficult decision to leave her medical studies incomplete. The safety and well-being of herself and her loved ones became her top priority.
Leaving her dreams of becoming a medical professional behind, Diana embarked on a journey to find safety and stability outside of her homeland. It was not an easy decision, but one made with a heavy heart and a resolute spirit. In 2022, Diana found solace in the digital realm, working as a secretary  in the Law Offices of Clarissa M. Kalil, PLLC. Her fluency in Dari, Pashto, Urdu, and English proved to be an invaluable asset, allowing her to bridge language barriers and facilitate communication between our clients from diverse backgrounds. This work has been both fulfilling and rewarding, enabling her to utilize her linguistic skills to assist and support others.
Caroline Mendes Melo, born in Inhumas, is an inspiring 34-year-old professional who has found her passion in the world of finance. Since the age of 10, when she moved to Goiânia, she has shown unwavering dedication in everything she does. 
With a Bachelor's degree in Accounting, Caroline has carved an impressive path amassing over 7 years of valuable experience. Her journey has led her to play a pivotal role as the head of the accounting department for over 5 years, where her meticulous attention to detail and deep understanding of accounting complexities have established her as a reliable and capable leader. Whether tackling numerical challenges or guiding teams to success, Caroline has consistently exhibited an unwavering commitment to excellence. 
Her trajectory is a testament not only to her professional skills but also to her determination and work ethic. Caroline is recognized for her collaborative approach and capability. Her positive impact in the corporate realm is remarkable, and she continues to embrace challenges with unmatched perseverance. At our office, Caroline has taken on the role of a financial assistant, aiding us in our daily tasks.
Iago is passionate about working with people, he has spent most of his life working as a teacher guiding students to their goals. He is a curious person who is always seeking to learn new things that can improve his career and personal life.
This search for knowledge and growth has helped him to develop interpersonal skills, good communication, and reliability. Iago is always trying to help people around him achieve their objectives which makes him a great person to work with and a valuable contribution to this team.
In our office, Iago is the backbone of our customer service, consistently ensuring that our client's needs are met with meticulous attention and genuine care.
Dari and Pashto Interpreter 
Rohan Wesal is an Afghan refugee. He studied computer science and is very eager to help all of our Afghan clients. He speaks  Dari, Pashto,  and English fluently.  In our office he helps with translation of documents and serves as an interpreter for our legal team.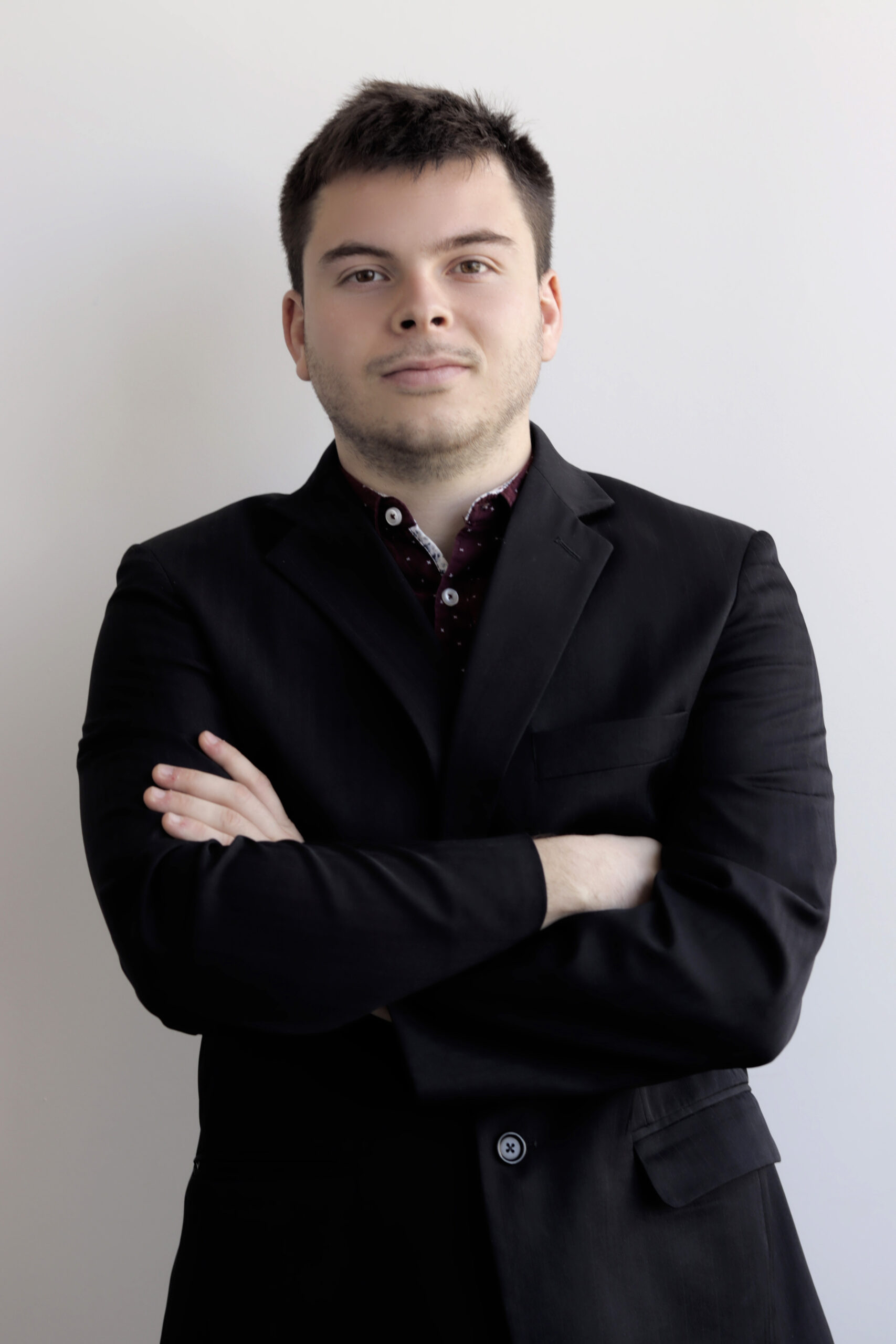 Vinicio has communication and leadership skills as he has served as an instructor and teacher at a large franchise in England. This period of his life gave him a greater desire to help people follow their passions and fight for their rights.
Mr Zacheu is currently enrolled in a BYU University program. He speaks English and Portuguese fluently. At the Law Offices of Clarissa M. Kalil, PLLC Mr. Zacheu helps clients with questionnaires, declarations and form preparation for a variety of immigration reliefs.
Passionate about helping people achieve their goals and dreams, he served as a full-time volunteer for 2 years in Utah, where he developed communication skills, teamwork and empathy.