Clarissa M. Kalil, Esq. has dedicated her life to helping immigrants navigate the immigration process. Kalil is a dual licensed attorney in two countries: Brazil (OAB/GO 35665) and in the United States (Missouri Bar 71440). Her practice is exclusively dedicated to the U.S. immigration law. Since her office only handles immigration matters which is federal law, she can represent clients in all 50 states in the U.S. Immigration law is federal law enforced by a federal agency. As such, an immigration attorney admitted to practice law in any state can represent a client before DHS, USCIS, the BIA, or any immigration court in any other state.
Having witnessed her own parent's journey to obtain a green card, she is determined to help as many families as possible. Born in the United States, Kalil and her immigrant parents moved back to Brazil when she was four years old. Kalil is the third-generation attorney on her father's side. Growing up, she was passionate about justice for as long as she can remember. "I dreamed of living in a world that provided equal opportunities for everyone", says Kalil. At just 16, Kalil enrolled in law school in Brazil, as the youngest student in her university. She spent 5 years studying and obtaining her degree before spending the next 3 years working as an attorney at a full-service law firm, handling civil, labor, and family law matters.
Her inspiration for justice came from her own background. During her time in law school, Kalil suffered a horrible mistake at the hands of a pharmacy that gave her the wrong medication. She was given medicine containing a double dosage of corticosteroids which caused suppression of her immune system. She ended up in the hospital with sepsis and Acute Respiratory Distress Syndrome (ARDS). She entered a coma and for several weeks, her failing lungs were kept alive through machines. This experience only strengthened Kalil's drive for justice and after making a miraculous recovery, she resolved to fulfill her dream of moving back to the United States. A few years later, Kalil returned to the United States as she was determined to obtain her US law degree.
While attending the Northeastern University School of Law, Kalil spent time volunteering at non-profit organizations, working in immigration clinics, and focused her studies on Immigration law, International Human Rights, and asylum. In 2019, she passed the US bar exam and founded The Law Offices of Clarissa M. Kalil, PLLC. Clarissa Kalil's immigration law services include family-based green cards, humanitarian-based forms of relief, and some employment-based green cards. Unlike many other immigration law firms, Kalil's firm explores a variety of immigration relief options. "It's never a one-size-fits-all solution," says Kalil, "We do our best to help our clients achieve their dream of success in the U.S." The philosophy of the Law Offices of Clarissa M. Kalil, PLLC is simple: "We evince our commitment to each client by providing a class of legal service that is peerless. I feel very grateful to collaborate with and become part of the American Dream of other people. This is the driving force for me to help and do my best to help all of our clients to obtain their right to live and work in the United States without fear."
She is a member of the American Immigration Lawyers Association (AILA), Boston Bar Association (BBA), Member of ASISTA.
Admitted to practice law in the U.S. Court of Appeals for the First Circuit.
Admitted to practice law in the U.S. Court of Appeals for the Second Circuit.
Admitted to practice law in the state of Missouri by the Supreme Court of Missouri
Admitted to practice law in Brazil by the OAB-GO.
2017 LL.M. Graduate of Northeastern University School of Law in Boston, MA.
Associate Immigration Attorney 
Attorney Timothy Caron is licensed in the Commonwealth of Massachusetts, as well as the District of Columbia. He holds a Juris Doctor (J.D.) degree from the George Washington University Law School in Washington, DC. Attorney Caron also holds a Bachelor of Arts (B.A.) degree, Magna Cum Laude, from the George Washington University in Political Science.

Attorney Caron has worked with individuals seeking immigration assistance from across Central America, South America, the Caribbean, and Afghanistan. Timothy specializes in asylum, and has further experience with provisional waivers, naturalization, notices of intent to deny, notices of appeal or motion, motions to reopen, motions to terminate, and O-1 visas. He has represented clients in several Immigration Courts located across the U.S., as well as at the USCIS Boston Office.

A proud great-grandson of French-Canadian and Lebanese immigrants, Timothy understands not only the good that this country can offer to those in need, but, in turn, the valuable role that immigrants have played in the betterment of the United States.

Attorney Caron has volunteered his time to a range of non-profit organizations, including the Antiquities Coalition, the Washington Legal Clinic for the Homeless, and the Museum of the Palestinian People. He is also involved in the performing arts, having written and staged multiple theatre productions, as well as having composed and produced several music albums.
Immigration Attorney Associate
Bruna Squires is an immigration attorney with a unique perspective on the challenges faced by immigrants. Bruna was born and raised in Recife, Brazil, before embarking on her own immigration journey to the United States as an International Student at the age of 19. She later became naturalized, and her personal experience inspired her to dedicate her career to helping others navigate the complex and often daunting process of immigrating to the United States.
 Bruna's passion for immigration law stems from her own experiences as an immigrant. Focusing on Family-Based Immigration, she understands the importance of family reunification and providing compassionate and effective legal representation. She understands the importance of family and the challenges that immigrants face when trying to reunite with loved ones.
 With a concentration in Immigration Law from New England School of Law in Boston, MA, Bruna has honed her legal skills and is licensed to practice in the state of Minnesota. She is an active member of the American Immigration Lawyers Association (AILA) and regularly participates in continuing legal education to stay up-to-date on the latest developments in immigration law. Additionally, Bruna has recently been working on expanding her knowledge in new areas of immigration law, including Asylum for Afghan OAW Parolees, VAWA, and T-Visas.
 Bruna's previous work also included providing legal orientation to pro se respondents facing removal proceedings in Immigration Court. Through this work, she gained a deep understanding of the challenges that immigrants face in navigating the legal system and the importance of having effective legal representation.
 In addition to her legal expertise, Bruna holds an Associate Degree in International Business, graduating Phi Theta Kappa, from Bunker Hill Community College in Boston, MA. She also has a Bachelor's Degree in Management with a Concentration in Global Management, graduating cum laude, from Bridgewater State University in Bridgewater, MA.
Outside of work, Bruna is a wife and a dedicated mother to her three boys. In her free time, she enjoys spending time with her family, traveling, and photography.
Anna was born in Caeté, in the interior of Minas Gerais and grew up in Belo Horizonte, Brazil. In addition to being a licensed lawyer in Brazil, she has a huge passion for entrepreneurship and before moving to the United States, she worked in a network of entrepreneurs in Belo Horizonte. She also worked at the Minas Gerais Public Defender's Office in the civil area and in the legal sector of Fiat Chrysler Automobiles, where she coordinated the strategy of consumerist cases of high complexity.
Anna moved to the United States in June 2019 and before joining our team, she acquired experience playing the role of paralegal at two law firms in the Boston area. She has extensive knowledge in working with clients in removal proceedings, victims of domestic violence and marriage based immigration petitions. She is also working in business  immigration and medical deferred action cases in our office. She currently works as a Paralegal in our immigration team.
As an immigrant, Anna loves to work in immigration matters and has a particular fondness for the cases of SIJS, as she feels fulfilled in being able to serve children and adolescents to achieve a new trajectory through legal residency and citizenship in the United States after suffering a history of abandonment, abuse or neglect by their own parents.
Anna is married, dreams of being a mother and loves traveling and meeting new cultures. When not working, Anna enjoys spending time with her family, playing tennis and exploring the beauties of New England.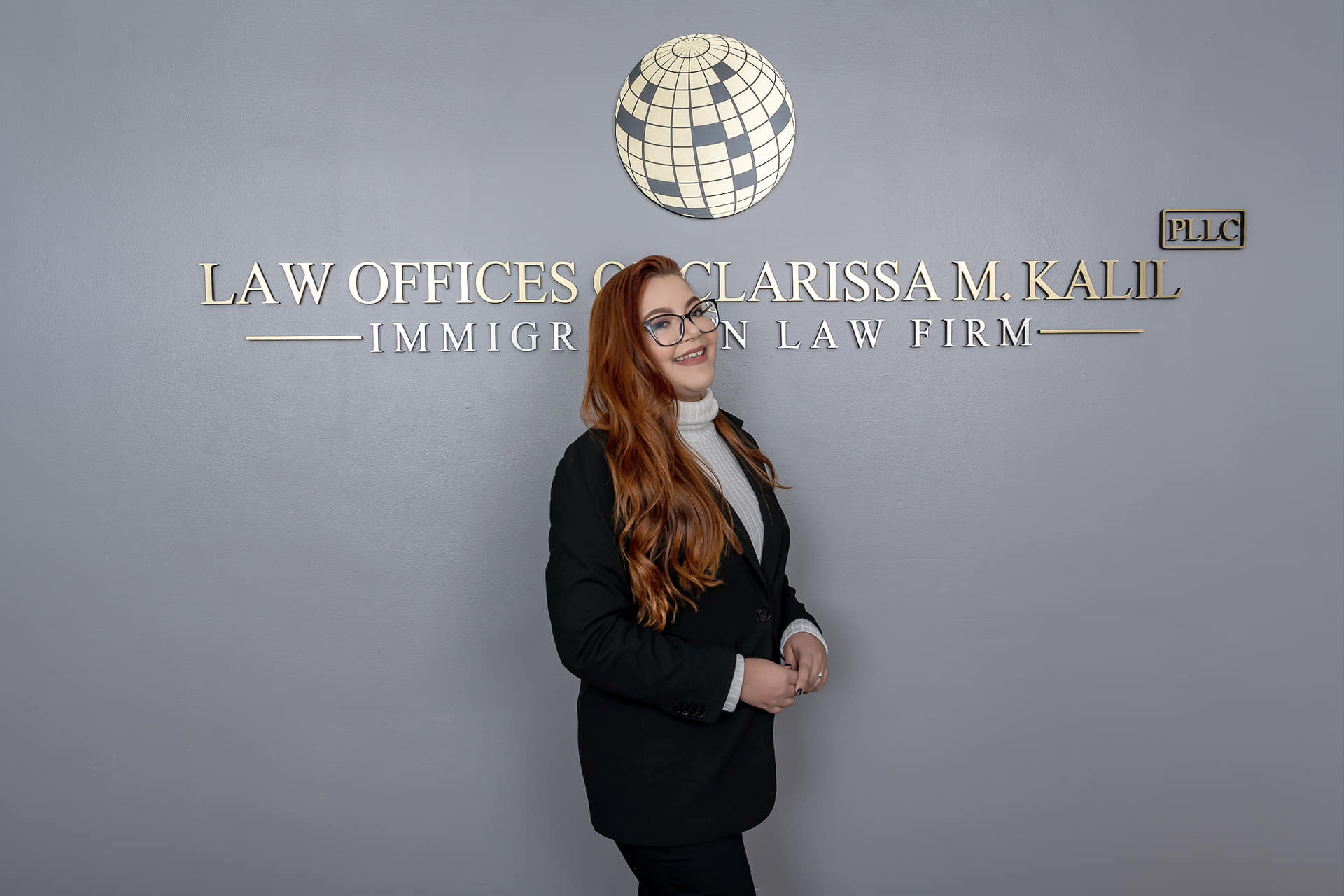 A paralegal student at Massachusetts Bay College, she has experience in organizational management and customer services. Kimberly speaks three languages, Portuguese, English and Spanish, Kimberly works in our office providing assistance  regarding affidavit preparation, filling out forms and communicating with clients. She is also responsible for communication with requesting records to the U.S. immigration agencies such as USCIS, CBP, ICE and U.S. Department of State. She is very passionate about the U.S. immigration law and is dedicated to providing the best customer services to our clients. 
Dari and Pashto Interpreter 
Rohin Wesal is an Afghan refugee. He studied computer science and is very eager to help all of our Afghan clients. He speaks  Dari, Pashto,  and English fluently.  In our office he helps with translation of documents and serves as an interpreter for our legal team.
Vinicio has communication and leadership skills as he has served as an instructor and teacher at a large franchise in England. This period of his life gave him a greater desire to help people follow their passions and fight for their rights.
Mr Zacheu is currently enrolled in a BYU University program. He speaks English and Portuguese fluently. At the Law Offices of Clarissa M. Kalil, PLLC Mr. Zacheu helps clients with questionnaires, declarations and form preparation for a variety of immigration reliefs.
Passionate about helping people achieve their goals and dreams, he served as a full-time volunteer for 2 years in Utah, where he developed communication skills, teamwork and empathy.